Dooks Golf Links: ancient links gem continues to reinvent itself
by Blaine Newnham
Perhaps the changing face of Irish golf can best be understood during a delightful visit to Dooks Golf Links, a sort of hidden gem just off the north loop of the Ring of Kerry that each year becomes a little less hidden and a lot more of a gem.
I'd played there 25 years ago on my first of many trips to Ireland. Dooks was memorable then for a classic old clubhouse and not much else.
I saw it this time as one of the most pleasing links course imaginable. It seemed to have everything, from postcard views of Dingle Bay to the mountains beyond. From holes you can handle to those you probably can't, classic links holes requiring precision most links courses don't.
It begins with the first hole, with the green partially hidden by a bunker and an encroaching dune, to the 18th in which the green is nearly completely hidden by dunes on the left and right.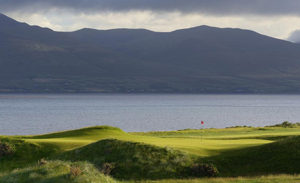 The charm missing 25 years ago was uncovered in the course's renovation by architect Martin Hawtree in 2004, a makeover that included 16 new greens and their complementary – very complementary – surrounds.
And the best may be yet to come.
The club has recently purchased 90 acres adjacent to the 10th hole – 90 acres of dunes and coastal exposure apparently large enough and significant enough to build as many as six new holes. In the process the current 16th and 17th holes would likely be converted into a practice area.
"We see this addition of acreage as an opportunity to let the course breathe," said Maurice O'Meara, general manager of Dooks. "We want to expand the existing holes, broaden them, as well as take advantage of the setting of the new acreage – right next to the beach, we'll be able to create some memorable golf holes there."
Dooks, where they have been playing golf since 1889, simply won't let itself become obsolete, determined to keep re-creating itself. And yet it embraces its past as well as its future. The new clubhouse, opened in 2005, is fine, but the original bar remains, a reminder of pints past. And John, its bartender, has been pulling pints at Dooks since 1970.
There is talk that Hawtree will do the new holes, and that it will be his final work before retirement.
Hawtree is recognized as the go-to architect of the Royal & Ancient. He was entrusted with making changes to the Old Course at St. Andrews. His work in Ireland is heralded, especially on Trump Doonbeg and Lahinch but also at the revered Portmarnock and the Island Club near Dublin. He also helped make Open-rota courses Carnoustie, Royal Liverpool and Royal Birkdale ready for Open championships.
Moreover, his protege, Martin Ebert, did the universally-appreciated renovation of Trump Turnberry's Ailsa course.
Dooks is in good hands, and is well-positioned to be on the must-play list of those playing Ballybunion to the north and Waterville to the south. And Dooks is more playable and more affordable – $150 during the peak season – than many of the others, perhaps even more friendly.
You only hope that Hawtree, if he does retire, does his final work at Dooks. And plays his final round there as well. It would seem appropriate, for this not-so-hidden gem.
(Note: This is the fourth in a series of articles following Blaine's visit to Ireland in September 2017. Thanks to Tourism Ireland for their generosity of spirit and for arranging his itinerary. For additional articles on golf and travel, please visit www.ronbwriter.com.)
Infatuated by links golf, Blaine Newnham has played the great courses of the British Isles, from St. Andrews and Royal Dornoch in Scotland, to Royal Porthcawl in Wales, to Lahinch and Ballybunion in Ireland. He was a sports editor and columnist for 11 years with Oregon's Eugene Register-Guard, and an associate editor and sports columnist for The Seattle Times for 23 years. In 2014 he authored the book America's St. Andrews, chronicling the birth of Chambers Bay and its lead-up to the 2015 U.S. Open. Blaine received the Distinguished Service Award from the Northwest Golf Media Association, and is a regular member of the Golf Writers Association of America.