O'Donnell and Taylor take Senior Men's Team title while Gallacher and Lindbjerg take Super Senior Men's Team Title
Pat O'Donnell (Happy Valley, Ore.) and Denny Taylor (Gladstone, Ore.) went wire-to-wire to claim the Pacific NW Senior Men's Team Championship title held this week at Gold Mountain Golf Club in Bremerton, Wash. O'Donnell and Taylor fired scores of 62-66-65 to get the job done and finish with a three-shot lead over last year's champions Erik Hanson (Kirkland, Wash.) and Craig Larson (Bainbridge, Wash.). This is the second time that O'Donnell and Taylor have won this championship, having done so in 2015.
"It went great" said Taylor on their play this week. "We played Chapman format better anyway because we play that at home." Both players are longtime friends and both members out at Arrowhead Golf Club in Molalla, Oregon.
Click here to watch the full interview.
John Gallacher (Burnaby, BC) and Gudmund Lindbjerg (Port Moody, BC) successfully defended their Pacific NW Super Senior Men's Team Championship title as they fired a final round score of 65 (7-under) to finish with a one-shot lead over Lance MacGregor (Delta, BC) and Stephen Berry (Vancouver, BC). The pair managed to remain close to the lead each day of the championship to give them a chance to win by shooting scores of 68-63-65. The pair have now won their third consecutive title in this championship.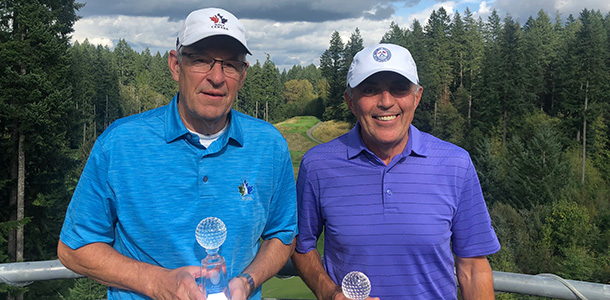 "We didn't make a lot of mistakes" said Gallacher and Lindbjerg,  "today we got it done and that's the most important thing."
Click here to watch the full video.
Click here for final scoring for both championships.