Alvarez wins in 38 holes at PNGA Women's Amateur; Proteau claims Mid-Amateur title
Julianne Alvarez of Seattle chipped in for birdie from 25 feet on the 38th hole to win the 116th Pacific Northwest Women's Amateur, defeating Samantha Martirez of the Philippines; while Christina Proteau of Port Alberni, B.C. defeated Gretchen Johnson of Portland, Ore. 3 and 2 to win the 16th Pacific Northwest Women's Mid-Amateur.
The two championships were held concurrently this week on the par-71 Fairwood Golf and Country Club in Renton, Wash. and conducted by the Pacific Northwest Golf Association (PNGA).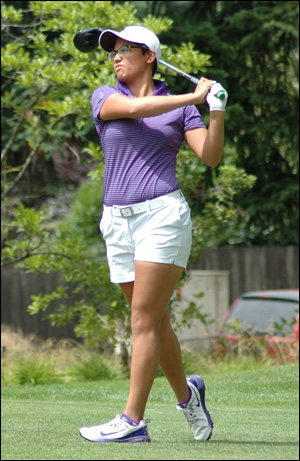 For final match play brackets and complete hole-by-hole scoring, visit www.thepnga.org.
To stay connected on social media, follow @PNGALIVE on Twitter and use the hashtag #PNGAWomensAm.
Martirez had built a 3-up lead mid-way through the morning round of the scheduled 36-hole match, but Alvarez turned the tables and held a 2-up lead after 18 holes. Alvarez extended her lead to 3-up, but Martirez won three consecutive holes (31, 32, 33) to square the match. The two traded holes, and ended the second round All Square, and headed for extra holes.
"It was really an up and down day," Alvarez said after the match. "I had a pretty interesting day. There were holes where I was hitting it close and sinking putts no problem, and other stretches where I was hitting it all over the golf course and finding all the trees. I guess I just managed to play a little smarter through the rough holes."
Toward the end of the match, Alvarez and her caddie, Parker Nolan, the son of a member at host Fairwood, decided to take the driver out of play. "My driver was getting a little wayward and Parker said we really need to stay in the short grass as much as possible."
On the two extra holes, both short par-4s, Alvarez hit 3-wood and 3-iron off the tee, respectively. On the 38th hole, after watching Martirez push her tee shot into the trees on the right, Alvarez' conservative play proved to be the difference in the match.
On the first extra hole, Martirez dropped a 22-foot birdie, then watched as Alvarez followed it with a 15-foot birdie of her own. She then followed with the heroics on the 38th hole, chipping in from the back of the green for the win.
A native of New Zealand, Alvarez twice won the New Zealand Amateur (2013, 2015). She was a member of the NCAA national champion Huskies last year, and so far this summer has won the Washington State Women's Amateur and last week qualified for the 2017 U.S. Women's Amateur.
Martirez is a rising sophomore at California Baptist University where she was recently named PacWest Freshman of the Year after winning the individual title in the PacWest Championship.
Proteau, the No. 1 seed entering match play in the Women's Mid-Amateur, never trailed in her match with Johnson.
She is a three-time PNGA Women's Mid-Amateur Player of the Year (2012, 2013, 2015), but this is her first title in the Women's Mid-Amateur Championship. "Yeah, last year was the first time I'd played in this event," she said. "I was medalist last year, but ran into my good friend Shawn (Farmer) in match play and she beat me. So I was motivated this year. Being the No. 1 seed is nice but it doesn't really mean much because each match you're starting all over again; the clock restarts with every match. So I'm really excited about winning today, and am just really grateful."
Proteau is five months pregnant with her second child, and says this will be her final competition this season. "With my first child I played until the seventh month of pregnancy, but I'm a little older now and I want to make sure I take care of myself, so that's why I really wanted to win this championship. I struggled last year, and with this being my last big competition for the year, it really means a lot."
First held in 1899, the Pacific Northwest Women's Amateur is one of the oldest amateur golf championships in the world.
Alvarez now adds her name to the list of past champions that includes Pacific Northwest Golf Hall of Famers such as JoAnne Gunderson Carner, Jo Ann Washam, Pat Lesser Harbottle, Edean Ihlanfeldt, Violet Pooly Sweeney, Marcia Fisher, and Betty Jean Hulteng, among others. Past champions also include many others who would later go on to the LPGA Tour, such as Jimin Kang, Peggy Conley, Ruth Jessen and Shirley Englehorn.