Border Closure Woes – Why I miss golf in the Great White North
by Crai S. Bower
Last month I had finished a perfect fall day of Pacific Northwest golf, when the temperature hovered around 52 degrees and a stubborn sun stuck around like a Tiger gallery in 2020. And it was all very nice and very pleasant. I guess.
What could be missing, you ask? Well, bears for a start. Yes, bears. And elk, too. And a few other things I've only been able to see north of the border (which, as we know, we cannot cross at the moment).
Seriously, one of my favorite fairway tales features a rutting elk I, um, encountered while playing Banff Springs Golf Club, just outside Calgary in Alberta, one early October. It's one of the dozens of stories I've amassed after heading north of the border as often as possible to play golf.
The Banff Springs Golf Club's legacy is unparalleled, especially for course design nuts like myself. Bill Thompson, who apprenticed with Old Tom Morris, designed the original nine holes in 1911, and Donald Ross added nine more in 1924. But it was Stanley Thompson, the godfather of Canadian golf architects, who, in 1928, shaped the course we play today.
This Thompson jewel, at that time the most expensive golf course ever built, represents every element I love – and have missed – about playing golf in Canada. Like the best alpine tracks, the Springs' layout conveys us into the forests, up dizzying elevations, and down, such as at the world-famous fourth hole, the "Devil's Cauldron," deeply into the shadows.
At the 14th, one of seven holes that line the Bow River as snugly as down insulation, my concern didn't come from the 365-mile long Bow, one of Alberta's great angling rivers that flows from glacially-fed Bow Lake in the Canadian Rockies to the prairie. Nor was it the Bow rapids that cornered my concentration.
Rather, it was a bugler in the neighboring woods. This trumpeter, a 3-point elk, had exited the sylvan island to stand steward with his three-doe harem over the greenside bunker that currently held my approach shot hostage.
Fortunately, I wasn't the only audience to hear the rutting elk's call. A course marshal approached in his cart and signaled for me to get in.
"We don't bother about bears, which we get all the time," he laughed. "But when the elk rut, we quietly pick up our ball and move on to the next hole."
We left my ball where it lay, accelerated past the green, and climbed to the 15th tee box, a square cut out of the sky from where you launch your tee shot over the Bow to a fairway that seems a million miles away.
I didn't see any bears that day in Banff, but the marshal's observations are frequently shared by greenskeepers from the Canadian Rockies to Vancouver Island.
No mistaking Whistler, B.C. as bear country, especially in the spring when hungry black bears emerge from dens to gorge on mountain berries. The Golden Bear designed Nicklaus North in Whistler, but you'll find "Bear Island" off the 404-yard 14th fairway on Arnold Palmer's Whistler Golf Club. I love this village course, though I've never seen a bear on the 14th, even though the forested isle hosts an active bear lair.
It was at Robert Trent Jones Jr.'s Fairmont Château Whistler Golf Club where I last encountered a fairway bear. I'd taken a TV news anchor and his cameraman up to showcase why I loved Whistler on any day in any season.
The Château course is a tough test, and my playing partner's concentration was severely tested when a young black bear sow sauntered across the fairway just 10 yards behind him as he lined up his approach. He may have shanked his shot, but it made for excellent TV during the 5-part "Adventures in Whistler" series.
Though I love alpine golf from Sun Peaks to Victoria's Bear Mountain Resort and especially Olympic View Golf Club, where the granite bookmarks come into play on several holes, I miss playing golf all over Canada.
I probably won't return to Saskatchewan's Dakota Dunes, an astounding prairie links layout in the middle of absolutely nowhere, but I sorely missed my annual golf (and wine and food and mountain biking) tour in the Canadian Okanagan.
I'm not sure if the 20-plus courses surrounding Lake Okanagan remain a secret in the U.S. anymore, but I remain positive a golf vacation here still has few peers in North America. There's a good reason so many golf-mad NHL players make their summer homes in Kelowna. The 36 holes at Predator Ridge is simply a blast, The Bear & The Quail never get old, and Gallagher's Canyon provides as fair a test as any of the two dozen local courses.
Best of all, 19th holes pour across over 150 winery tasting rooms throughout the valley. My favorite vantage point is the terrace at Mission Hill Winery in West Kelowna, which perches above the premier vineyards like an elevated par-3 tee box.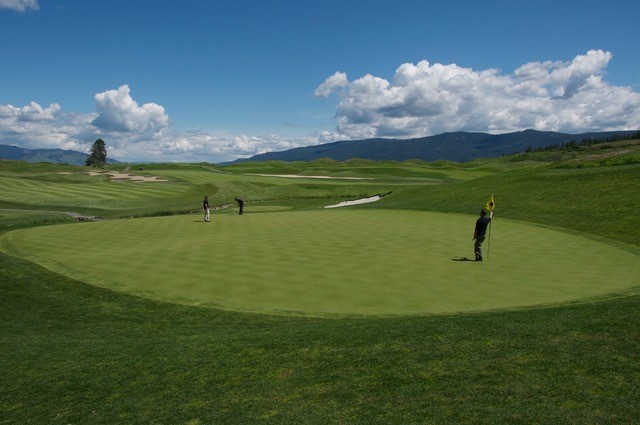 Everybody knows about Canada's passion for hockey. Less known is just how crazy Canucks are for golf. Perhaps it's having a steel stick in my hands where every tin cup becomes a five-hole, but as a former college hockey player turned golf obsessive, I can't wait to grab my sticks and head back to the Great Green North.
Now, let's talk about that border closure….
(This article previously appeared in the November 2020 issue of Pacific Northwest Golfer magazine.)
A native of Canada who now lives in Seattle, Crai S. Bower writes scores of adventure travel articles a year for over 25 publications, including golf stories for American Way, Hearst Media and Journey magazine, among others. He appears regularly on the American Forces Network as a travel commentator. Visit his site at flowingstreammedia.net.