Josh McCollum to meet Laurent Desmarchais in final match at PNGA Men's Amateur
Lakewood, Wash. – Josh McCollum of Upland, Calif. will meet Laurent Desmarchais of Quebec, Canada in Saturday's championship final match of the 118th Pacific Northwest Men's Amateur Championship. The match will be contested over 36 holes, and the two players will tee off in their morning round at 7:30 a.m., and their afternoon round at 12:00 p.m.
The championship is being held this week at Tacoma Country and Golf Club in Lakewood, Wash., and is conducted by the Pacific Northwest Golf Association. The first championship was held in1899, also at Tacoma.
To stay connected on social media, follow @PNGALIVE on Twitter for live updates and use the hashtag #PNGAMensAm. Click here to follow along with live scoring of the match.
After starting with 168 players in stroke-play qualifying, the championship comes down to the final match between McCollum and Desmarchais.
McCollum, who just finished his senior year playing on the Chico State University men's golf team, faced to formidable opponents in today's quarterfinal and semifinal matches. This morning he squared off against Joe Highsmith, who won last week's prestigious Sahalee Players Championship and was playing this week on his home course of Tacoma. But McCollum played aggressive the entire match, and had Highsmith on the ropes from the first hole.
"Joe is a phenomenal player, and winning the Sahalee Players is not easy," McCollum said. "I knew I needed to go out and make birdies. My game is not conservative, and I was going after flags today."
McCollum closed out Highsmith, 4&3.
In his afternoon semifinal match, McCollum defeated Carson Barry of Eagle, Idaho. Barry, the No. 64 seed, had barely made it into the match-play bracket via a playoff, but when he defeated the No. 1 seed RJ Manke in the Round of 64, he started blistering the field, winning his next three matches by margins of 8&7, 5&4, and 5&4. But McCollum's length and aggressiveness brought an end to Barry's Cinderella run, and he defeated Barry handily, 5&4.
"I love match play," Barry said. "I don't play it too much during the season, but it's my favorite format. And I love this track (at Tacoma); it's very similar to my home course in California."
McCollum said he found out about the Pacific Northwest Men's Amateur from a teammate at Chico State who is from Idaho. "I knew it always has a strong field, and I try to find events where I can compete against the best."
Click here to watch McCollum's post-match interview.
Desmarchais, 18, defeated Sean Kato of Redmond, Wash. fairly easily in this morning's quarterfinal, 4&2. But his semifinal match this afternoon against Jacob Koppenberg of Bellingham, Wash. was a different story. After streaking to an early 3-up lead, the wheels started to fall off for Desmarchais, as he missed birdie putts on three and 10.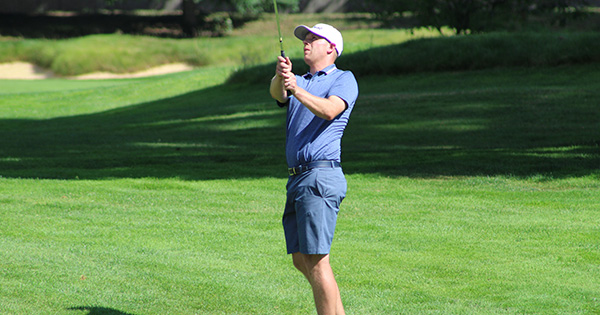 On the par-5 11th, Koppenberg made a match of it. From a tough lie in a fairway bunker, he birdied the hole. Then birdied 12. Then birdied 13. Then birdied 15. And in a blink Koppenberg went from 2-down to 2-up with three holes to play.
"Yeah, I missed that short birdie on 10, and I kind of lost focus," Desmarchais said. "And Jake started making putts from everywhere. So I'm standing on 16 tee and I told myself, 'There are still three holes left, why not.'"
Desmarchais won holes 16 and 17, and the two players went to 18 all square. Desmarchais sank his 8-foot birdie to win the hole and match, and then let out a big sigh of relief.
"It was a really good match," he said. "He never gave up, and neither did I."
Laurent just turned 18, and at 6-foot-5, he is long off the tee. He is a member of the Canadian National Junior Team. He spent four months this spring at the Golf Canada National Development Centre at Bear Mountain Resort outside Victoria, B.C. on Vancouver Island. "That's when I found out about this championship," Desmarchais said. "My coach told me about it, and that I should play in it."
Click here to watch Desmarchais' post-match interview.
Koppenberg, 32, was the No. 6 seed. He is an assistant coach for the men's golf team at Western Washington University. He has qualified for four U.S. Amateurs, and played well this week against the young college players.
Admission to watch the championship is free, and gallery is encouraged to walk the fairways to follow the matches.